By Suzanne De Vita
In a first in seven years, the median value in the U.S. is $226,800, declining 0.1 percent last month from the month prior, according to the latest Zillow Real Estate Market Report. Since February 2012, homes have rapidly risen in value, based on data from Zillow, but in April, they decreased in a month-to-month reversal.
According to Zillow's director of Economic Research, the backtrack could be an indicator of an overall slowdown, but the jury's still out.
"The widespread decline in home value growth in April—the first in many years—will turn heads, but it's too early to say if we've hit another national home value peak and are at the beginning of a sustained downturn, or if this is just a bump in the road," says Skylar Olsen, director of Economic Research at Zillow. "Month-over-month numbers are volatile, and this small decline could reverse itself before the year is out and before national home values go negative on a year-over-year basis."
On an annual basis, homes are still on a tear, but losing steam. In April, the median rose 6.1 percent year-over-year, the report shows. In December 2018, annual appreciation clocked in at 8.1 percent.
Approximately 90 percent of the largest markets, or 32 out of 35, saw slips in value. According to estimates by Zillow, the following are likely past their peak:
Baltimore, Md.
Boston, Mass.
Houston, Texas
Los Angeles, Calif.
Miami, Fla.
Philadelphia, Pa.
Pittsburgh, Pa.
Portland, Ore.
San Diego, Calif.
San Francisco, Calif.
San Jose, Calif.
Seattle, Wash.
St. Louis, Mo.
Tampa, Fla.
"The likelihood that home values have peaked in several local markets is real," Olsen says. "The price correction in these areas should continue after years of significant home value growth that substantially outpaced income growth."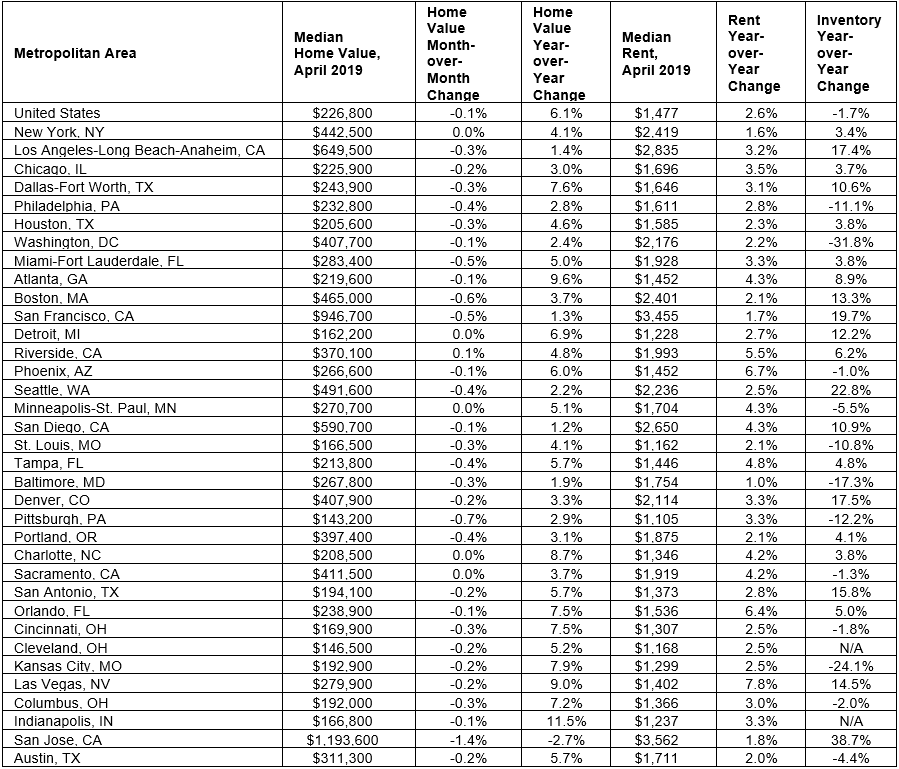 For more information, please visit www.zillow.com.
Suzanne De Vita is RISMedia's online news editor. Email her your real estate news ideas at [email protected].
Photo by chuttersnap on Unsplash